Here's just a few of the cars and trucks at SEMA that were bagged or lowered. One of our favorites this year was of course the scrapin FedEx truck from Mobsteel. There's an amazing amount of rubber under that body!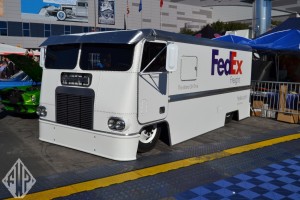 We also loved this slammed dually which won the "UPS Ride Your Hauler to SEMA Contest."
Rutledge Wood's 49 Step van was also worth looking at!
If you know who built any of the rest of these, feel free to comment below!