So this was my first year going to the King of the Hammers and I can tell you it was overwhelming. I arrived on Wednesday afternoon just a little before dark. There was very little daylight to get my bearings and figure out what was where and what. I parked outside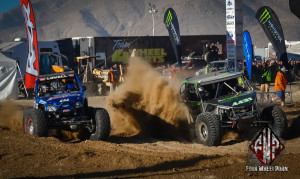 of the Hammertown fence and walked in to find the Media Tent. It wasn't terribly hard to find but the rows of race teams and vendors can look daunting at first. I did find the Media Tent and got checked in and then started to Wander around Hammertown. I found the Letzroll Offroad team tent pretty quickly as well as Shane and Joe from Kaos Krawlers. He invited me to go out with them that evening to Chocolate Thunder. We met back at their camp and a bunch of us rode out in a convoy of vehicles to Chocolate Thunder.
Chocolate Thunder is one of the many named obstacles in Johnson Valley and is one of three main sites for spectators to view the action of the race. We had some down time in the Kaos camp and by the time we actually got to Chocolate Thunder, it was 10 pm. I've
been to quite a few WEROCK events in Arizona and none of those, on their best day, had as many people as Chocolate Thunder did when we arrived. The nights allow for anyone to try their hand at the obstacles but not without a ton of heckling from the onlookers. After a couple hours and several runs up the obstacle by several members of the Kaos crew, we headed back to camp and to end the night.
On Thursday morning, cars for the Every Man Race started lining up at 6:30 so I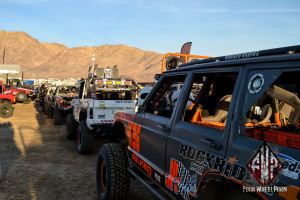 was up early to wander around the pits and get some photos. Tons of people everywhere so I didn't many great photos. As the start time approached, I made my way over to the start line and joined a couple hundred other media lined up about 50 feet from the edge of the track. Cars lined up and two cars were given the green flag every 30 seconds. They made an immediate left turn, then over several small man made jumps and then to the open desert. I waited for most of the cars to hit the start line and then decided I would make my way to a spot along the track.
I decided to play it safe and head to Chocolate Thunder since I knew how to get there and the truck I drove to KOH could safely make it there. It's about a 20 min drive to Chocolate Thunder from Hammertown but I knew it would be quite a while before cars would make it there. The entire course consists of several laps and was almost 200 miles. I decided to avoid the main part of Chocolate Thunder since every other media person was going to be there so I went up higher and a little above the obstacle to try and get a different shot than everyone else. I got into my position a little after 10 and found what I thought was a decent spot to cover a good section of the course with a decent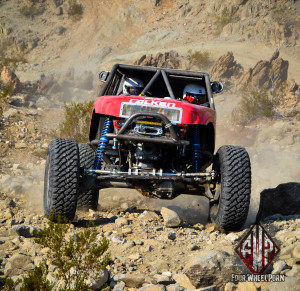 hill climb. After waiting a couple hours and watching thousands of spectators roll in on the other side of the course, the cars finally started arriving. A few cars came through and then another break, probably 30 mins or so before the next cars. I caught about a dozen cars coming through before deciding to move on.
At this point it was about 3 pm and I decided to head back to the Kaos camp. I met up with Shane and Joe again who were hanging out in camp. They shouldn't have been there as they were supposed to be in Remote Pit 2 for Letzroll Offroad but unfortunately their 4511 car had a short day and did not make it that far. They were headed off to work on the 4493 car for the race on Friday, so I wandered around Hammertown for a bit. I found some cool things like this Ranger.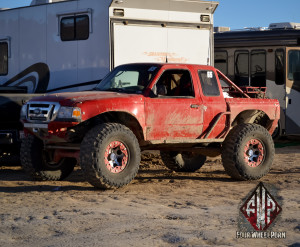 Later that night I headed out with Rob from Kaos and a few others to Backdoor. Walking up to Backdoor was like going to some futuristic "Mad Max" death match. Two steep hillsides on either side were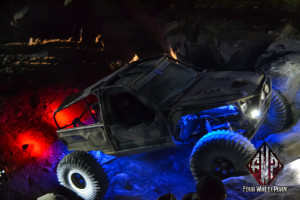 lined with more heckling onlookers, the glow from two bon fires lit the valley, and music cranked up from a buggy down in the bottom of the pit mixed with sounds and smell of gasoline and testosterone. We walked right up to the bottom of backdoor and were not 15 feet away from a car trying to climb the obstacle. Once that car made it up, we moved up on the hill to a spot just a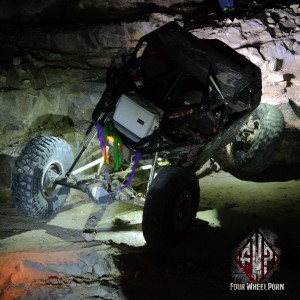 few feet above the obstacle. We watched many attempt the obstacle and I would say about 2/3 of those who tried eventually made it up but most that did make it up appeared to have done it before and usually came back and ran the obstacle multiple times. It was another late night, getting back to camp a little after 1.
Friday morning was the day of the big race and I needed to charge my camera batteries so I headed over to the media tent. I then walked the rows of cars several times catching a few decent pics before moving on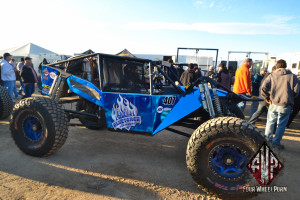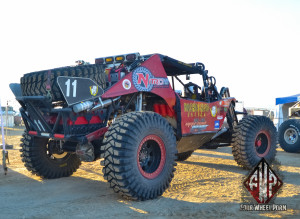 to the start line. It was pretty much the same as the day before except these cars were quite a bit faster. I started close to the start line but this time made my way out into the desert section to get some shots. I could see the cars making their way around a small hill and then several hundred feet up a mountain and through a saddle. I made my way back towards the start line and caught some pics of Jeremy Ealand rolling his car right at the start line. He luckily landed on his wheels and keep going!
After all the cars cleared the start line, I made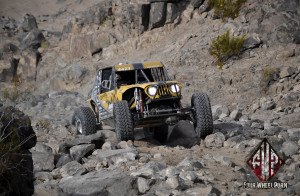 my way to Jackhammer, the other easily accessible obstacle. I waited a the base of the hill where the course was extremely wide. Everyone expected this to be a good passing area and a place where the drivers might make a big move. The first few cars came through one at a time but the cars quickly found a bottle neck at the waterfall at the top of the hill. The cars started to line up on the main path but a couple decided to try the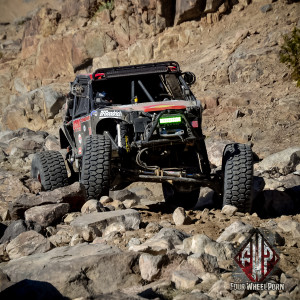 hardline. It took more winching but in the end, a couple drivers were able to make up some serious time. I made my way across the course and up to where the bottleneck was. The race volunteers who were there to help the driver's winch found that by daisy chaining the cars, it made things go much smoother. Race officials decided to force the drivers to winch so this made things very dull. Half the cars from the race were stuck waiting on one obstacle so it was time to move on.
I went back to Chocolate Thunder and got a place right in front of the obstacle. A few cars came through and then my camera died! From there I headed back to camp to charge my batteries again. From there a few of us wandered around Hammertown and waited for the finishers to come in. Randy Slawson would end up taking 1st place followed by Eric Miller and then Levi Shirley.
For first timers going to King of the Hammers, I would recommend a few things. Bring at minimum a camper to stay in. I planned on staying in the tent, but with the amount of dust and noise, I opted for staying inside my truck. A trailer would be best to stay in because if you do not have a bathroom, the only ones available throughout the entire event are about 30 portajohns in one section in Hammertown. Make sure you have some kind of 4wd transportation. A Jeep, UTV or something similar is best but I made it to the spectator areas with a F350 diesel. Luckily I have 4wd as it did get me out of some soft sand a couple times. With a more offroad capable vehicle you'll be able to get to more areas that other spectators won't. Be prepared for a lot of walking! Unless you are associated with a race team, you will not be able to drive into Hammertown so you will be walking at minimum a 1/4 mile from your vehicle to get where you're going. Also, you will wish you spent more time there then you did so try and go for the whole week if possible.
I can't wait for next year and hope to get even better photos then!